Welcome to Era, a once-prestigious kingdom, and now a mere shadow of its former glory. Rebel forces have dethroned the monarchy, aiming now to bring down the nobility. Ambitious Nobles meanwhile vie for power, though others simply wish to keep what they have. Others are Loyalists, believing some former-royalty could end this anarchy. Then there those who see a prime opportunity, and others who don't care at all. Some form Gangs, fighting for personal gain or unique causes, while others are more interested in the resurfacing of Shadow Pokemon. And naturally, there are those who just want to ignore everything and live their personal lives. There are no clear lines in Era.

Where in this chaos do you fall?

Vicious Circle is an intermediate-advanced RP. We are both highly active and casual, catering to hardcore and weekend RPers alike. If you have any questions or just want to chat, feel free to jump in the chatbox below. Please take the time to browse through and register if you're interested in the RP! ^^ We appreciate your visit, and hope you enjoy your stay~
________________________________________

VC is best viewed in

Chrome or
Firefox.
Or anything but IE. Really, it hates us.

Affiliations
NOBLES

REBELS

GANGS

LOYALISTS

OTHER

NEUTRAL

30

30

11

16

18

46

25

21

07

18

08

46
Totals
TOTAL MALES

TOTAL FEMALES

CHARACTER TOTAL

123

118

241

Again, there are no clear lines in Era. As such, many characters have more than one affiliation.

Stats last counted Oct 22, 2011.
~See More~
[Full Chat Rules & Info]
Quick Rules
Be respectful, friendly, and PG-13. Listen to staff and be nice to each other and guests~ Lower end of PG-13 for the box, too, generally, please. People can avoid topics they don't like, but the box is just kind of out there in the open.

Dark font only, please. Lighter colors can clash with some skins.

When discussing works of fiction, no spoilers. If you want to discuss too much, make a topic in the Socialize board. Kthxbai~

Do not link adoptables and/or ask for clicks. If you want to put something in your signature on the board, that's cool, but asking is just annoying.

Have fun, or face the consequences. D< (The consequences may involve chocolate.)



Nintendo/GameFreak: The Pokemon franchise.
Arkeis: Giratina and Dunsparce images in banners of same-named skins; Musharna in Dream Smoke skin; Typhlosion and Pignite in Fire skin; non-Shiny Reuniclus in Mind Crush skin.






<! -- ***NOTE*** Place any extra added side tables above this line // -->
(Show/Hide)
General Information
Character Spotlight
Other Spotlights

Ongoing Contests:
Major Events:

Vicious Circle RPG :: OUT OF CHARACTER :: Contests :: Post Message




Topic Summary
Posted by Admiral Striker General on Jul 1, 2011, 9:49am
So guys. If you all recall, Era is bordered by the sea on its west and north sides. To the south is the Orre. To the east-.....?

We haven't a clue! SO~ Ether and I decided a while back a contest sounded good (and saved us effort |D), so I was waiting until there was slightly less going on to start one.

Now, so far all we know is that it borders Era to the east, it does not reach as far north as the northernmost reaches of Era, and it was at least at some point in the past hostile toward Era. The rest is where you come in. |D

There will be three categories, each of which can be won by the same or different people, and each of which has its own prizes.

NAME:
Piece of cake. Give potential names for the region/country. Winner will receive $1000.

GEOGRAPHY:
What does the country look like? Must include capital, but other cities are optional. Can be written or drawn; latter will probably draw more attention if done well. Winner will receive $1500 and a [s]random mysterious unevolved Pokemon.[/s]
KERO BE A GEWD DRAW-ER-ER! 8"D That basic map is still open to minor tweaking and collaborating for details like city placement/names and other points of interest and such, though. :3

HISTORY/STATUS:
What is and was the country like? Doesn't have to be too extensive. Too short won't cut it, but too long (like pages on end) would be almost as bad. Mostly we need to know: is/was it a monarcy, known for technology, thriving, struggling, what? Winner will receive $2500 and EITHER a random evolved Pokemon, OR a random unevolved Pokemon and a Rare Candy (nontradeable). |3


You may enter any or all categories as many times as you like. Also, please FEEL FREE to build on other people's ideas; collaboration is awesome. Prizes for collabs will be split, usually with Pokemon going to everyone (less desirable species possible the more people involved though) and prize money being divided, though players may agree on different ways to split. This does NOT mean copy someone's good idea with a minor insiginificant change and expect to be rewarded though. x3; Significant contributers to collabs with be decided at staff discretion. You'll win something if we use your ideas, but if it's half a sentence in the middle of a long history, don't be surprised to get $100. x3

Get to brainstorming for us idea slaves thinking so you can win your prizes beloved members<3
Posted by Admiral Striker General on Jul 2, 2011, 2:08am
... x3 Pff I guess I'll throw up some random names. (By the way guys. If you use names from something, please note what. Meanings in general are nice.)

NAMES:

Serdio (Legend of Dragoon XP)

Synora (from the Sonoran Desert irl, but cooler looking. x3)
Posted by Jay on Jul 2, 2011, 9:14am
Namez:

Lesturia
Raylion
Kimlasca - TotA x3
Lanvader - 'land invader'


Exiree - like Exile
"Are" - like the opposite of Era xP; ya that was bad
Nekoda - Nebraska + Dakota seeing as Orre is like Arizona and Era's like around Utah ish
Vanimer/Vanier
Eyon/Eon - kinda just a time reference seeing as Era is time too xP
Xeshi
Veliva
Cedis
Aine
Olettea
Isoris
Lealon
Esteria
Jalilis
Heimdal
Tesalma
Maenna
Milanna
Gioza
Mion
La'krima

History:
Though it's history is not nearly as extensive and far back as Era's Lesturia's history dates back quite far. It originated as a kingdom whose proud people were known for their strength, violent ways, and conquering abilities rather than their culture. They started out rather far to the east and spread taking over a small group of peaceful native traders who had served as the barrier between Lesturia and Era previously. The people that lived in the once small middle country then went into hiding deep in their forested areas allowing Lesturians to set up their own cities. Over the yeas, the Lesturian monarchy clashed with the Eran monarchy and vied for land most notably sections of Era's Eastern Woods.

At one time, the two countries tried to settle things by diplomacy, and an Eran princess even married a Lesturian prince. However, this crumbled within only a few years, and both countries began to clash again even more violently than before. Both the prince and princess later mysteriously vanished, and rumors circled for years after that as to what exactly had happened. As industrialization took fold, the Lesturians embraced it most deeply for what it could mean in attacks and battle strategies and continued to expand their growing empire north, south, and west though continuing to struggle with Era in the east.

However, in later years internal strife wrecked the country as two twin brothers both struggled for the crown. Their father had been killed in battle and left no directions as to inheritance, and both brothers believed they had the right to take over. The fighting that would commence after that would divide the country. After this, Lesturia crumbled into several small countries two of which went to each of the brothers and a third (that bordered Era in particular) going to a group of people struggling to make a democracy.

The two prince countries warred for a good many generations while the third democratic just struggled to survive, and finally the two monarchies settled on a shaky peace only because of a plan for them both to jump the third in order to divide it up between themselves after. The third, in turn, was overwhelmed by the combined force and begged Era for help. However, because of it's democratic ways in contrast with Era's the monarchy of Era refused to help, and the small republic was crushed and divided between the other two countries.

However, after this the two countries would resume their own fighting and quarreled for a good number of years after that before one country finally dominated the other and took it back fully renaming it Lesturia once more. The monarch from the losing country was hanged. At the fall of Era two years ago, Lesturia's been on shaky grounds as influence from the rebels of Era has caused the people at the boarder to once again try at making a republic by fighting the dynasty.


Posted by Ball Rat on Jul 4, 2011, 12:36pm
Geography: Okay, so this picture is not meant to be pretty, but just to portray how much of each climate is actually there. I know it's not perfect and the country isn't going to be square like that, but... here it is: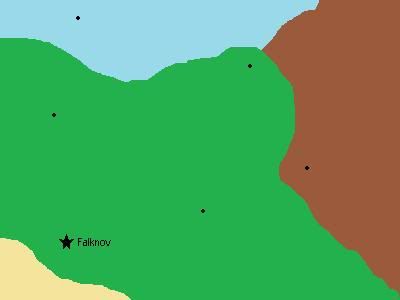 Light blue at the top is what little of the icy climate there is, green is forest, brown to the right is mountainous area, and the tiny bit of tan at the bottom is desert. Falknov is the capital and the other black dots are where I think points of interest/particularly large settlements or cities would be.


History: For many years, this country had no single power controlling it. Instead, there were many tribes that worked together to keep their land as peaceful and safe as possible. They rarely interacted with Era and when they did, it was most often to trade. They were expert hunters and often offered their finest furs, meats, and even their gathered fruits and vegetables to the monarchy to show that they were peaceful and to expand on their own food sources and even things such as toys for their children.

These tribes saw the mountains to their east as a barrier that helped keep them safe... It was unfortunate that they were proven wrong. A dynasty was able to traverse these peaks and, at first, seemed to want nothing more than to learn from the people of the villages. They learned how many villages there were, how many in each tribe, how these people fought, and much more. It didn't take long for this dynasty to overtake the peaceful tribes and make the land their own. They gave themselves several years to settle into the new area without bothering the two regions to their west. They visited Era first and found that while they were different from this culture, they agreed on many points.

Their visit to Orre didn't go as well. War began between the two and with Era somewhat in between, the relationship between the monarchy and dynasty began to rock. After a year or so, the dynasty agreed to have peace with the desert country to save their friendship and took the time to further explore and settle their land. When the monarchy fell, however, the eastern country no longer felt the need to leave Orre alone and war began anew. This is the current state of things... While the dynasty is at war with Orre, they have no quarrel with the divided Era and have vowed to leave the country to their own affairs without trouble. After all, a divided country would make an easy target for liberation.

There are rumors among the people that some people of the tribes have survived all these years, hidden away in the deeper forests and some in the icy tundra of the north. No one can confirm having seen these people, but some people have been reported going missing after going for a hike...
Posted by Admiral Striker General on Jul 5, 2011, 2:55am
.__.; Yeh anything affecting present/recent-day Orre isn't such a good idea. 'x3 Otherwise these are quite nice so far. :3
Posted by Ferorodono on Jul 8, 2011, 7:12pm
Alrighty, I was thinking if the region border would be another region from another site? Then they could collaborate, when finishing journeys people could go to the other or whatever.
My site's region is Aira (Eye-ruh)

History: Three siblings grew up in a random region: Amber, the youngest, Tyrone, the middle, and Deep, the oldest. They grew up determined to find the source of a Pokemon's power and control it. They went exploring together, on their Pokemon journey, and found a new region no one had seen before. This was Aira. They explored the region, picking out their favorite spot in the terrain, and settling down. These siblings did not tell anyone about this region, but they isolated themselves from the rest of the world. The land was not to be forgotten by the rest of the world, however. A rich old man, by the name of Tom, found the region. With his money he set to hiring people to explore the region and find out what they could. (For future reference, one of those explorers was Samantha Willow). He then started building cities and towns fit for Pokemon trainers. The place was new, and he needed people for gym leader positions and the professor. Samantha Willow came along in time. She was one of the explorers and had traveled Aira. She warned Tom along with other people that they were not the first people to find this region; she had found the hideouts of Team Toxic, Marina, and Holo. Not many people believed her, but Tom was shocked by the girl's extent of knowledge and asked her to take the job as professor. Hence Professor Willow.
(NOTE: If we can't be region neighbors, please do not use this idea for any other region.)

If we can't be 'neighbors,' then here are some other names:
Thorsis (Thor-sis)
Praymor (Pray-more)
Steelor (Steel-er)

Geography of AIRA:
Aira has a lot of different kinds of weather and land. To the south is a desert-like area, with the main beaches and things to the northeast. But here is the full map, courtesy of me :3


Posted by Admiral Striker General on Jul 8, 2011, 7:56pm
'x3; You understand that by to the east it wasn't meant "across the eastern ocean". We need something that shares a land border, so an island doesn't work for obvious reasons. Also, it was strongly implied, though I suppose not directly stated, that it must be at least somewhat old to have been able to be hostile toward Era at some point in the past. Aside from that, if it was an unexplored region until recently, either Era or Orre would have likely expanded into it already, further adding to reasons it should have an older history behind it.

x3 Your alternate names will certainly be considered though.
Posted by Jay on Jul 8, 2011, 10:35pm
Just a note x3 Tere and I are mildly mixing our two histories.
Posted by Admiral Striker General on Jul 10, 2011, 3:02am
x3 Sounds fun.
Posted by Lady Leaf on Jul 12, 2011, 5:34am
Im a work on a map!!! but after I finish some other stuff I need to draw x3
Posted by Admiral Striker General on Jul 13, 2011, 3:20pm
xD BETTER be after. *SHOTMAULED* XP Love you Kero<3
Posted by Lady Leaf on Aug 16, 2011, 11:23am
Oks! Kero had lots of time to think about how the land would look and finally I have finished drawing it down to get the general idea. I made sure not to make it all prettily drawn but instead focused on how I think the land mass should look. So where the mountains, forests, water and so on should go. x3 So without further ado, here it is. (Quick legend under it)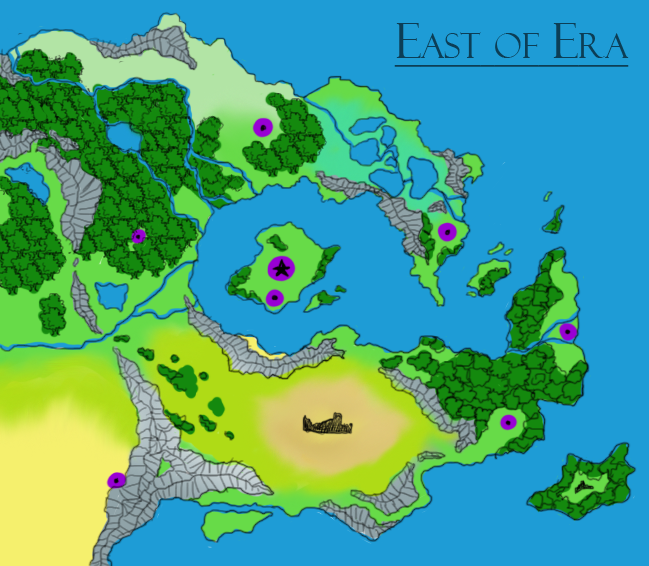 Blue: Water
Green: Grassy area's (can have some trees)
Dark Green: Foresty lands
Blueish Green: Wet lands
Whiteish Green: Colder Lands
Brownish Green: More earthy, dead lands with a bit of plant life
Brown: Deadish, hard sand lands
Yellow: Desert like lands
Grey: Mountains
Purple with Black dot: Towns/Cities
Purple with star: Capital
Black squiggly things: Ruins

I didn't name the capital cuz I suck at names. I can name it if you guys want. The other towns are only suggested area's they could be and may be moved around or taken out.

Posted by Admiral Striker General on Sept 1, 2011, 6:47pm
\o/ How did I miss this for so long? My only qualm is I think it should be a bit bigger- in particular, I have some thoughts for actually adding on a bit to the picture on the west/left (particularly the northwest, as a few more mountails up there would better flow out of Era), but for the most part this can probably be achieved just by adding more towns/cities to make the same drawing look like it takes up more space. |D Maybe a few more islands, too. x3 But it be so pretteh~
Posted by Lady Leaf on Sept 13, 2011, 12:13am
Umm, I understand you're concern of it being too small as it's hard to compare it to Era without seeing it in the correct proportions as the VC map. I hadn't matched it's proportions to the VC map as I figured Id do that if this idea actually won, and I redrew it. x3 So, putting it next to Era it would look like this: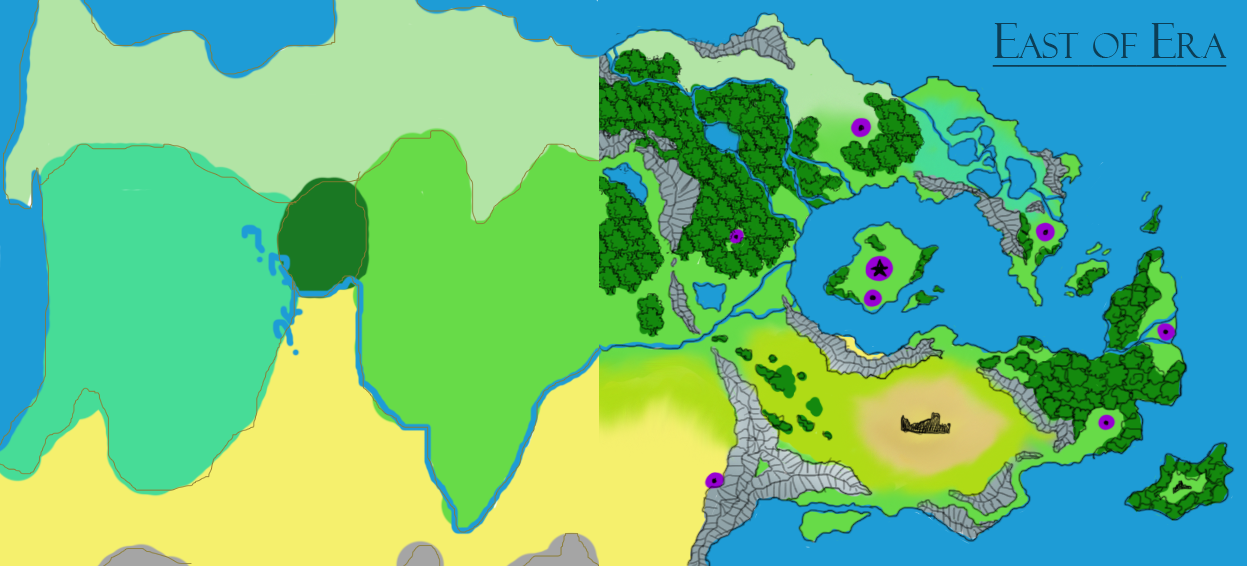 The North/West was smaller as it was said that "...it does not reach as far north as the northernmost reaches of Era..." Which is why I had it smaller, and then break off. It also didn't raise as far up x3 I can defiantly add more islands, and raise the North more if you like.

At least with the quick sketch of Era you can see how the regions split up and work corresponding to how Era is set up. The river doesn't have to go all the way through Era. I just imagined it that way xD Figured it would make sense. The mountains in the North is what I used to separate east and north. I can add more if you want. The reason for few towns is because I suck at placing them. But the size of the dots show how small in comparison to the land mass they actually are. I figured it be best to place the cities/towns more accurately depending on which history was picked as the winner. As the winner could have many or very few depending on how populated the place is.

I'm not really sure how adding more cities/towns to the north would make it look like takes up more space? I asked Dare if she knew what you meant and wasn't sure either. Can you clarify maybe, please? x3


Posted by Admiral Striker General on Sept 13, 2011, 5:23pm
X3 Well, which would logically generally have more settlements, assuming similar climates/etc: a 100 sq km area or a 1000 sq km area? XP If there are room for more towns it stands to reason the area in which those towns are located is large. But yeah you're totally right about the history thing.

x3 I'm.... not even shit-SKETCHING more just... shit-throwing-blobs-of-color... xD *SHOT* to try to show you how I meant 'extending' the north, and after re-examining a map of the Orre I'm actually repositioning a lot. x3 But this could totally work... *throws moar blobs*

....

|D Huzzah~ X'3; Just thoughts.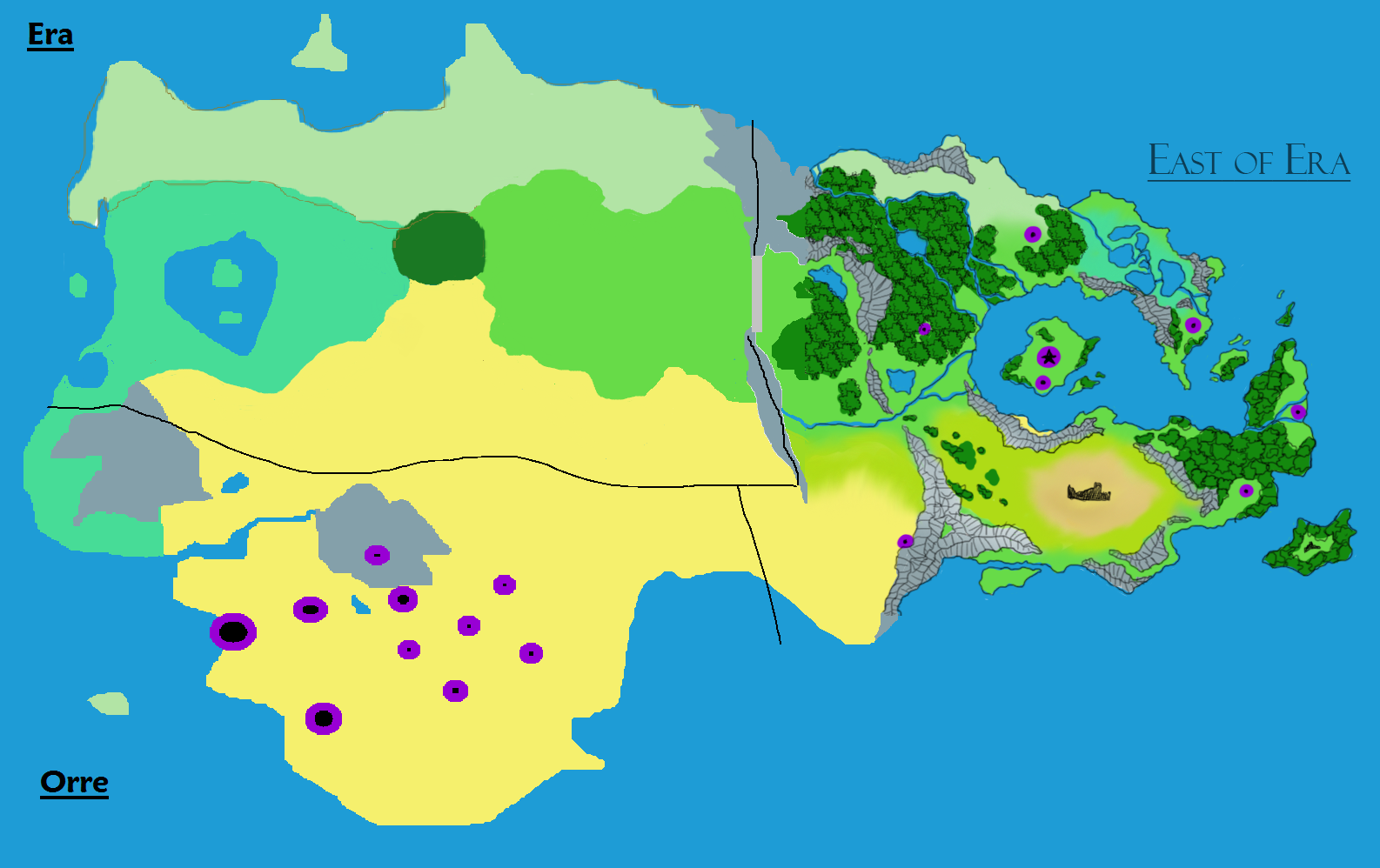 Edit: OH RIGHT yeah I should specify, that light gray strip in the mountains is the wall fortress that's gonna go in the east. x3
Posted by Lady Leaf on Sept 15, 2011, 12:43am
You didn't really re-position anything on my map xD Just added on a strip.

Posted by Admiral Striker General on Sept 15, 2011, 3:36pm
XD No by reposition I mean Eastland (temp name from now on x3) in comparison to Era and Orre. X3 Where it WAS going to be just "east of Era" now I've got it where it goes quite a bit further south than Era. (That strip ended up as more than I originally was thinking, but the top where the mountains go up was what I meant by extending. x3)

On that note, if/when you redraw that better, feel free to maybe make the Orre a LITTLE smaller and to mess as much as you want with that area east of where Orre's cities stop and where the border falls. Hell, maybe make Eastland bigger overall and.... X3 Blah now I have to try that proportion..

8'D OH WOW I ACTUALLY LIKE THIS A LOT BETTER it fits how I pictured Orre to Era better and makes Eastland bigger and more formidable-looking and feel free to fuck around with that little southern peninsula but in filling it with whatever or reshaping it or anything I don't care it was just filler. x3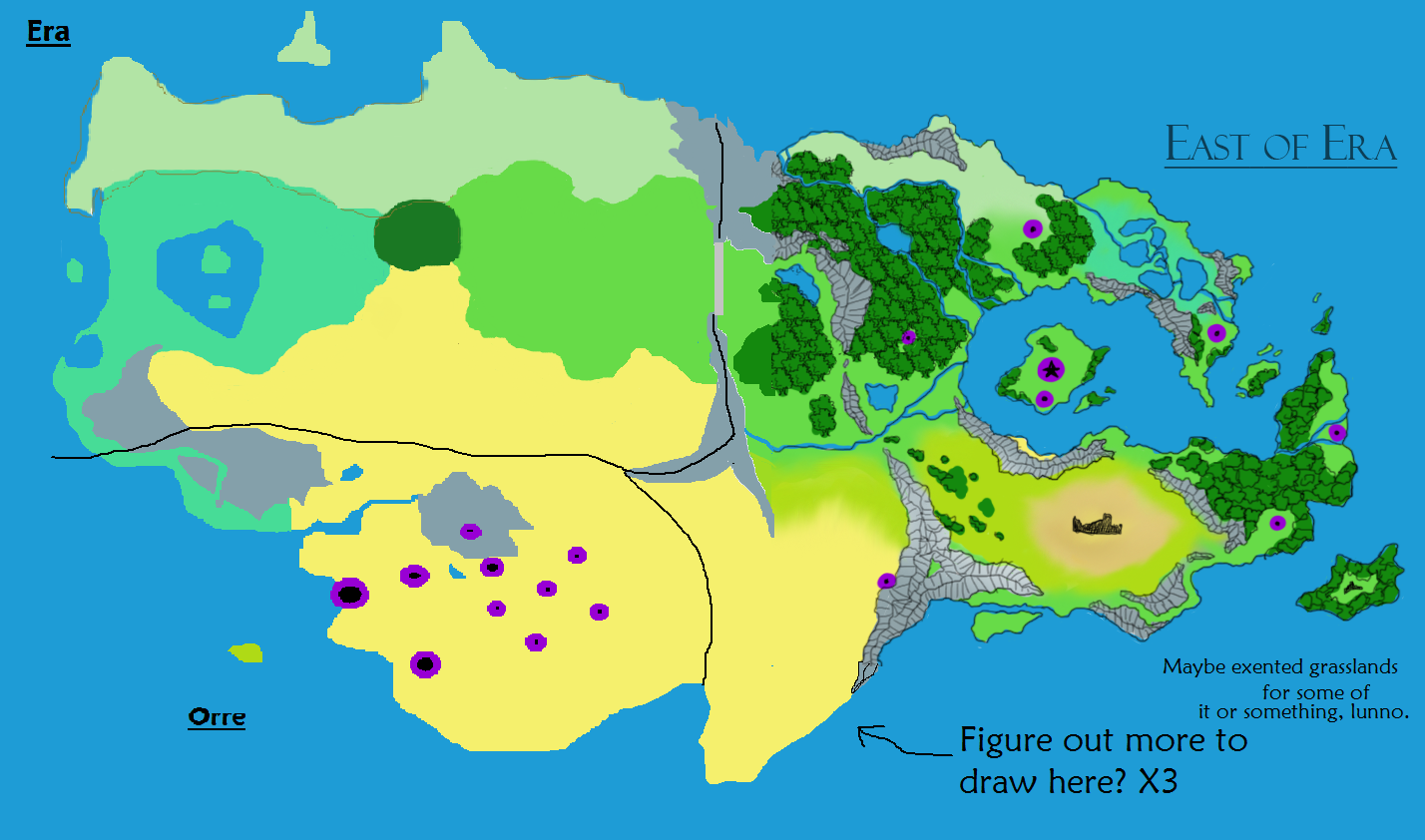 Posted by Lady Leaf on Sept 17, 2011, 6:47am
I can defiantly do that if the map idea wins ^_^ And then perhaps also put together a new map for Era. You'll just have to point out where you want certain land marks. Then after that's all set up we can place where all the cities and what not should go. I just always find it easier to place things like forests and lakes and stuff first. Dunno why x3
Posted by Admiral Striker General on Sept 19, 2011, 5:24pm
... X"3 I don't know why you're saying "if" actually. This has been open for nearly three months and Tere's entry was only a rough idea of terrain types and the other entry was revoked and this had everything I could want and more. :"D So uh, yeah, GRATZ KERO, I'm gonna mark that you've technically won the main geography prize but that it's still open for debate/tweaking/collabing-for-lesser-prizes on the exact filler/details. :'3

I'll update your money in just a second, and as your mysterious prize you may choose between an ALBINO (lucky dice are lucky :"D):

Snivy, Nidoran, Minccino, Chimchar, or Volbeat/Illumise.

Gender and ability and all is up to you. ^w^
Posted by Lady Leaf on Sept 19, 2011, 8:47pm
xD Well, someone else could have entered ooooor the one entry that was revoked could have been remade before time was up. Lawl

Once the idea's on the finale changes are known, let me know and I'll work on making a better map.

Also, can I have the Snivy please <3 Shall go to *dun dun dun* Lance xD
You know, cuz he doesn't have an over flow of pokemon already

Static Affiliates:






Scrolling:
Marquee:
Click Here To Make This Board Ad-Free
This Board Hosted For FREE By ProBoards
Get Your Own Free Message Boards & Free Forums!
Terms of Service | Privacy Policy | Notice | FTC Disclosure | Report Abuse | Mobile